These are fairly typical photos of Gladys Hall and Thiddo Smith. Anyone who knew her saw, at one time or another, this look when she was peeved. Thiddo could be very charming, so long as you were not his wife or one of his children.

The crux of the nexus

Gladys Hall and Bethel T. Smith are the crux of the Smith-Hall nexus, the pivot point for this family history. Gladys, the daughter of Robert Jasper "Bob" Hall and Pearl Grace Buttrum, was born 16 March 1931 on "East Highland Mountain" (now called Bunch Mountain) just east of Adairsville, Georgia. Bunch Mountain Road turns left off Pleasant Valley Road just beyond where it intersects I-75. It replaced an old dirt road that went up the mountain in a series of switchbacks that was always called "The Crooked Side."

Just beyond the top of the ridge, an unnamed dirt road branched off to the left and Gladys and her brother Robert "Bud" Hall were born in a house at the end of this road. She died 13 June 2003 at the age of 72 in Gordon Hospital in Calhoun, Georgia, of pancreatic failure. She was living in Shannon Village in Shannon, Georgia, at the time of her death, and had been married for 20 years to her uncle, still living.

Bethel Theodore Smith was born 2 November 1923 in Floyd County, Georgia, probably on Bell's Ferry Road north of Rome, and died on Good Friday, 7 April 1977 in McCall's Hospital in Rome at the age of 53 of complications from a massive heart attack he had about five years earlier. He was living on Peters Street in Calhoun at the time. He had a lot of nicknames. He was called B. T., Thid, Thiddo, Thiddore, Smitty, and Shorty (he was 5' 3-1/2"). I refer to him as Thiddo on these websites.
Gladys was the daughter of Robert Jasper Hall and Pearl Grace Buttrum. Her father was usually called Bob, Papa or Papa Hall, and her mother simply Pearl. Thiddo was the son of James Henry Smith, known as Jim, and Rosa Alice Davis, who was called Rosie. Both family trees have been traced to prior to the Civil War in Northwest Georgia, their ancestors were early residents of the counties of Bartow, Floyd, Gilmer, Gordon, and Pickens.

Gladys and Thiddo were married twice, first on 12 September 1947 when she was 16 and he was 23. They were married at the Church of God Parsonage in Shannon. He had just come home from the military. They divorced around 1970 and he married a woman named Esther Sheriff, now deceased. They later divorced (see below) and he remarried Gladys in the early 1970s. Thiddo was also married one other time, during World War II (see below).
Gladys and Thiddo first met when he was 10 and she was 3. Both their families were living in River Bend, a bend in the Oostanaula River west of Plainville in Gordon County on the Floyd County lien. They later met at what was then Towe Chapel Church of God on Towe Chapel Road south of Highway 140 in eastern Bartow County. On Sunday, 28 July 1947, he pulled up as church was letting out in a car he had been working on and was road testing. Gladys and her family were standing in front of the church. They were introduced by Mildred Hite, a rival of her mother Pearl who was Thiddo's age (she was born 15 September 1924). Mildred married Thiddo's brother J. D. Glady talked to him about 15 minutes and her first impression was not favorable; his clothes were dirty. "I thought he was a grease monkey," she said, "but I thought, too, that he was the man I was going to marry." He came back the next week, and before long they were dating. Still, she said she would not have married him had her mother been alive.

"She would have talked me out of it," she said, "She had already done it twice (apparently with two previous suitors)." But after her death on 1 July 1947, "Papa told me to get married. Then there wouldn't be a lot of talk." Gladys said she meant that there wouldn't be a lot of talk about her being the only girl in a house full of men (she had three brothers). Papa Hall's concern might have stemmed from the years he and some of his siblings lived together in the Reeves area after the death of their father Jasper in 1904. Papa Hall's father Newton Jasper Hall is said to have molested his oldest girls.
They set up housekeeping in Pleasant Valley, east of Adairsville. My notes are not clear, but at some point early on they lived with Papa Hall. He kicked them out when he found out that Thiddo had married during the war and did not know if he was divorced. Papa Hall said. "He was not man enough to tell us." For a time they lived in a house since destroyed that stood on a hillside on what is now Twin Bridges Road, immediately east of its junction with the current Highway 140 west of Adairsville. I know because this was the house they were living in when I was born. Despite their troubled history, Thiddo and Gladys later moved in with his father for three months. Their animosity toward each other softened a little because she was pregnant with her second child, born in November of 1949.

Gladys could not have known, of course, but Thiddo was a carrier of what is known in the family as the "Smith temper," a psychological condition marked by volcanic, unpredictable outbursts of violence in which he hit Gladys, assaulted others, and beat his children severely with a belt, often for trivial wrongs, such as jumping on the bed or leaving a coat at school. Yet, he could be very charming, especially to his nieces, nephews, and grandchildren -- also an aspect of the Smith temper -- and many of them remember him fondly.

He also had a good sense of humor. His favorite joke was about a man in a restaurant who, when he had finished his meal, was approached by a waitress who asked him if he would like some pie. The man said, "Yes," and the waitress replied, "What kind would you like?" The man was shocked and said, "There ain't no pie but 'tater pie!" For those unfamiliar with Southern culture, that's sweet potato pie.

He was poorly educated. When the family moved from Floyd County before 1930, he went to third grade at Adairsville School in Shannon a few days and then quit school for good. But he was a mechanical genius. Even as a very young boy, he showed an aptitude for taking things apart and putting them together. By the time he was in the second grade, he was fixing up old bicycles and selling them. On his last day at Adairsville, he told me he rode a bicycle down the main hall from one end of the school to the other, then left for good.

In the 1960s, when automobiles were simpler, he could diagnose a problem simply by listening to the engine run (now, with all the electronics, there can be any number of causes of a malfunction). He could also walk around a vehicle once and then tell you the location of every ding, scratch, and dent. He was as good a "paint and body man" as there was. In the 1960s, he owned his own garage and automobile junk yard, called Mid-City Auto Parts, on Highway 53 at the end of Old Calhoun Road south of the Highway 140 intersection, as well as a beer joint in the same building called "The Sugar Shack."

He also worked at the Buick-Oldsmobile-Pontiac plant in Atlanta in the late 1950s as a mechanic who fixed problems with finished cars, and around that same time was manager of the maintenance barn for the City of Marietta. When he was younger, in the mid-1950s, he share-cropped bottom land on the Oostanaula River just east of Resaca, Georgia, and before that he was a "pulp-wooder" and had his own truck for hauling pulpwood. In the 1970s, he was a maintenance man for Crown Craft Mills in Calhoun, Georgia. While there he got the contract for all their scrap yarn, and wound up making more money off it than he was being paid in salary.
He always had the ability to make money, but his restlessness meant that he never stuck with anything long enough to accumulate a fortune. In all, he moved about 30 times after he left home at 15. In the late 1960s, he owned just over 13 acres in Floyd County on Highway 140 at the Bartow County line. Subdivided, that land is worth a small fortune today. He bought it for $13,500, but sold it at auction at no profit. He also owned 6.7 acres in Cobb County on Hickory Grove Road just east of I-75. This land is worth even more. And he owned about two acres on South Main Street in Adairsville, Georgia, where he built a mobile home park that still exists. He also built a mobile home park on Highway 41 just north of Lily Pond, but the land flooded and he closed it. But, like Mid-City Auto Parts and The Sugar Shack, after a while he tired of what he had and moved on. When he died, his net worth was only $5,000.

About 1952, while operating a garage on Highway 27 in South Rome, a pretty blond woman driving a red sports car came to the shop to get it repaired. They hit it off immediately and, soon after he took off with her, telling Gladys he was going to join the Merchant Marines. Gladys had to move in with her father. The blond stayed with him until his money ran out somewhere in Texas about two weeks later. When he came back, he took a job as a night watchman at Primrose Mills south of Rome and worked there 10 months.

| | |
| --- | --- |
| In 1953, Gladys and Thiddo lived in this red tarpaper house off old Highway 27 south of Rome. The house, still standing a few years ago, sits behind what was once the residence of the Plumadors. They were living in this house when he ran off to Texas, and when their third child was born. They moved from here to Primrose Village in March of that year, nine days after the birth of their third child. | |
Thiddo, as said, had a very dark side. He was greedy, and would take advantage of anyone naive enough to bargain with him, including his own children. But worse, he was a serial arsonist, is known to have violently assaulted at least five men, and may have killed as many as four others.

I personally saw him assault three people in my lifetime. He hit a man in a cafe on Highway 27 south of Rome when I was 5, with a heavy cafe coffee cup which he broke over his head, in a dispute over money. He hit an old man at a relative's house,with a tin ashtray stand, which he dented on the man's head, because he said the old man had scratched his car while moving his own. And he hit Melvin Hall, a late cousin by marriage, with a tire iron, striking him on his right temple, staggering him, because Melvin said Thiddo owed him money. Melvin was holding a .22 pistol on Thiddo at the time, but put the pistol in his pocket and left without a word.
Thiddo also told me he hit a man with a 2x4 when he was in the Army. The first time he said he thought he killed him, and at a later time told me he did kill him. Thiddo said they were in a Jeep and the man, sitting behind him, made some obscene comment about a girl walking up the street. Thiddo kept a piece of a 2x4 beside the seat and grabbed it, turned, and hit the man on the side of his head. The man fell out of the Jeep. He may have been a captain who went missing one night when he and Thiddo went out on leave, and the captain failed to return. Thiddo was suspected of killing him since he was the last person to see him alive.

According to his sister, still living, Thiddo got wind that he was going to be prosecuted for the captain's death, and staged an auto accident with a friend of his. He faked an injury and got admitted to the post hospital. With the help of a friend, perhaps the same one, he got a suit of regular clothes, sneaked out of the hospital and went AWOL. These two victims could be different men, however, because Thiddo told me on one occasion that there were others in the Jeep and said they all agreed to say it was an accident.

Thiddo also told his sister that he killed two fellow soldiers one night while he was on guard duty because they failed to halt when he said halt. It was wartime and I am sure those were his orders, but he said the two men were not trying to run away nor were they acting aggressively. They just didn't stop.
According to his military records, he enlisted on 8 March 1941 at Fort McPherson in Atlanta. He was 16, but lied about his age; his year of birth in his military records is 1922. He is listed as 5' 4" inches tall and 126 pounds.

He once told me two stories about being on maneuvers. One was that his company was camped on the edge of the Mississippi River and, because it was cold, he was sleeping on the hood of his Jeep. He was awakened by General Patton, and with another soldier was ordered to swim the Mississippi to the other side to awaken a ferryman. Thiddo said they drifted over a mile downstream before reaching the other bank. He also said that while on maneuvers -- my recollection is that they were in Texas -- he and another soldier purposely got lost. They spent several days with one or more families, who took them in because they were in uniform, before catching up with their company.

He remained AWOL for 1,559 days, living in different parts of the country. For a time, he lived in Washington, D. C., in sight of FBI headquarters, and at one point lived with his sister, Magdalene, and her husband Charles Ferguson in Paducah, Kentucky. He used the name Clarence Johnson, and Magdalene told her neighbors he was her half-breother. Charles was an MP at the time, but blood is thick. In Fairfield, Ohio, he met a girl named Johnny Craft and married her. Her mother threatened to turn him in when she found out he was AWOL. They married on a Saturday, found a place to live in Columbus on Sunday, and he left her on Tuesday. Thiddo also had a girlfriend in New Jersey, but Gladys could not remember her name.She was Catholic.
Before the war ended, he joined the Navy and served on troop ships traveling between the U. S. and Cuba. He initially worked in the engine room, a hot, miserable job, until one day an opening came up for a ship's barber. He signed up, and got the job by lying that he knew how to cut hair. He told me that because the standard cut was a buzz cut, he figured he would learn how to cut hair before he had to cut an officer's hair, and he did.
At the end of the war, he was given an honorable discharge from the Navy, and was immediately picked up by MPs from the Army for being a deserter. He received a dishonorable discharge from the Army. Gladys said he received an honorable discharge from the Navy because he was originally tried on the wrong article of war, but I have not been able to confirm that. His courts martial for the death of the captain was never held.

He is also said to have killed a man in the 1970s, but I have been unable to verify any of the information, and so I will omit the details. He is known, however, to have threatened the life of Esther Sheriff after he left her and she filed for divorce. He or someone on his behalf also slashed her tires and poured gallons of paint on her car. He may have also threatened to kill her attorney, but her attorney is in an advanced stage of dementia and is unable to confirm this. Esther came home one night to find that he had stripped her house of everything he said was his, including an air conditioner mounted in a hole in the front wall by the door. She feared for her life and told a living relative, "He'll kill me if eh can. He thinks I want every thing he's got. I don't want everything he's got."

Esther Lee Sheriff Farace died 3 January 2003 at the age of 66 in Gordon County. She was the widow of Tony Farace, her fifth husband.

Thiddo Smith was never prosecuted for any of his many crimes, including burning down six houses for the insurance, and, according to family oral history, burning down the house of a relative for the same reason. Investigators finally figured out he was an arsonist around the time he died. He undoubtedly got away with the arsons because of a lack of centralized record-keeping. A list of the houses is included in a copy of a lawsuit filed against him on the page titled "Smith documents." He got away with assaulting people because people feared him. By the end of his life, he had pretty much alienated nearly everyone who knew him
He was a tortured soul and the victim of severe abuse by his own father, which you can read more about in the section on James Henry Smith and Rosa Alice Davis. The abuse made him a classic "Type A" personality, constantly on the go and very impatient, probably a combination of PTSD and the 20 cups of coffee and two packs of unfiltered Lucky Strike cigarettes he consumed every day. Despite this, I never saw him take a drink of alcohol, even when he owned the Sugar Shack. His violence grew out of deep-seated fear. I saw him cry twice: once, when he hit Gladys and made her cry; and once his eyes teared up while he was sitting in the office of the J. L. Todd Auction Company in Rome waiting for an interview. He was selling his property on Highway 140 and the prospect of dealing with someone in authority, especially when it involved money, scared him to death. That can be traced directly to a severe beating he received when he was 15, which is detailed in the aforementioned section above.

Thiddo was not a religious person. I never knew him to attend church. He said that he didn't care for religion because he had been cheated out of some money by a preacher once. But he apparently came to understand the train wreck that was his life before he died, somewhat like the hero in a Greek tragedy. When he was on his death bed, a minister visited him and asked Thiddo to pray with him for the salvation of his soul, but Thiddo said, "It won't do any good. I have done things that can't be undone."
As for Gladys, I am not an impartial judge. Our relationship was always strained, even when I was a little child. It is said that every child grows up in a different family, and I believe that is true. In the one I grew up in, she could be cruel and manipulative, and we did not speak for the last 10 years of her life. But her relationships with her other children were much different and better.
She was a little more educated than Thiddo, quitting in the seventh grade at Adairsville School. She attended school first at a one-room school in Pleasant Valley. It was located just north of the crossroads, between Pleasant Valley Road and the Pleasant Valley Baptist Church. Despite her limited education, Gladys had an affinity for remembering names and dates. Her knowledge of the history of the Smith and Hall families was encyclopedic.

Gladys had a wonderful grandmother, Fannie Mae Buttrum, who had a great sense of humor. Gladys said that when she was a little girl, she and some of her friends loved to tease and tickle "Grandma Buttrum" because when she laughed really hard she would fart and pee on herself, which only made her laugh harder.
On the Kingston Road (Highway 293) at one time stood a store and water mill. The road at one point runs very close to a large creek that flows into the Etowah River. Because of a dam built across the creek for the mill, the store was called the "Dam Store," and as a child Gladys said she and other children delighted in saying, "Let's go to the Dam Store."

Gladys was very talkative and friendly, often striking up conversations with complete strangers. She also loved professional wrestling, and in her later years would squirm in her chair and punch her fists, and sometimes throw things at the television, while she urged her favorites on or yelled at their enemies. She was not a great cook -- she cooked out of a can, as they say -- but she did have two dishes that are legendary in the family -- mustard potato salad and chicken dressing.
In her later years, she became religious. I never knew her to attend church while she was married to Thiddo, but she and her second husband were founding members of the Resaca (Georgia) Church of God, and attended church there for 20 years prior to her death.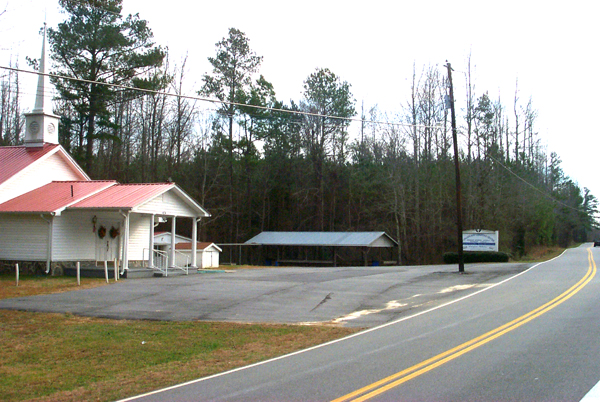 This is the original location of Towe Chapel Church of God on Towe Chapel Road east of Adairsville, Georgia. Gladys Hall first met Thiddo Smith in front of the church in the summer of 1947.
The author of this website and all affiliated websites is Marion T. Smith, son of Gladys and Thiddo. Please send any additions or corrections to him at upmytree@inbox.com. Thanks.

Last updated 26 October 2011.